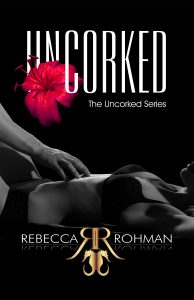 Contemporary Romance with Elements of Suspense
Chella Noon's life isn't her own. Her success as a Marketing Executive in the cosmetic division of an international conglomerate is overshadowed by a series of tragic events from a decade ago. With no family, few trusted friends, and years spent on the run, she opens herself up to the possibility of a future with a sexy new real estate investor despite escalating threats from a psychotic ex determined to torment her.
Mitch Mariani never met a deal he couldn't close. So when Chella walks into his life, he will stop at nothing to prove he is worthy of her trust. But as Chella's past catches up to them and danger exposes his well-guarded secrets, his heart may not be the only thing at risk of a tragic end.
Read Excerpt Below
I See A Great Future For This Writer And Will Continue To Buy Her Books!
I think this book was a great break-out novel for Rebecca. It was well written, the characters were likable and well-developed just as the story was, great sex between the main characters, and a lot of angst and build-up of suspense as the book continues on. Do not miss this read, you will be sorry. I am not really good at reviews, but I liked this book and wanted to encourage people not to miss out on a good first novel!!!
Lorraine
Goodreads Reviewer
Ms. Rohman Certainly Knows How To Create A Story That Sucks You Into It!
It is clear that Ms. Rohman certainly has a pattern with her writing. Besides the fact that her stories are full of twists and turns that keep you guessing, she also writes very strong, independent, and business-minded main female characters, and her male lead characters are just as strong-minded and also protective. Oh, and Ms. Rohman certainly knows how to write a sex scene! Read the complete review here...
Kylie
Goodreads Reviewer
This Book Had Me Shedding Tears With The Characters!
Uncorked is not a typical romance novel. It's full of suspense, and twists and turns. This book kept me on my toes. Just when you thought, you have it all figured out or things would calm down, another piece of the story is revealed and you have to keep going. Read the complete review here...
Cleo
Goodreads Reviewer
I Loved Uncorked By Rebecca Rohman!
The story has just the right amount of romance and suspense. Chella and Mitch have a great story to tell and keep the reader enthralled while they tell it. I didn't want to put the book down. Not only will you love the story, but you will fall in love with the characters.
Marcie
Goodreads Reviewer
No Disappointment Here! Grab Your Copy Now!
I have to say I really love Ms. Rohman's writing style. Each paragraph, sentence, and chapter has just enough description to keep you hanging, and wanting to read more. Ms. Rohman has avoided the angsty backwards and forwards storyline where you just want to bang the character's heads together. Don't get me wrong this story is jam-packed full of drama, action, love, lust, and mystery. But Ms. Rohman's writing style kept the story moving without lingering storylines. Read the complete review here...
Kirstie
Goodreads Reviewer