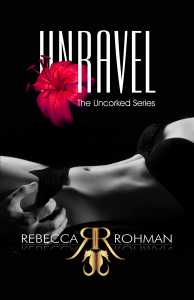 Chella and Mitch Mariani are a happily married couple, living the good life in San Diego. She's a marketing genius in the cosmetics division at an international conglomerate; he's one of the city's most successful real estate investors. Life has never been better.
Until a series of disturbing events cloud a blissful fifth wedding anniversary.
Lies surface. Suspicions escalate. Danger lurks. Their seemingly taut bond unravels their love to its core. As misguided choices threaten to destroy them forever, keeping their hearts on the path to a collective future might be the most monumental fight of all.
Unravel is a follow-up novella to Rebecca Rohman's first romantic suspense novel, Uncorked. If you enjoy romantic suspense, and you're looking for a fast-paced and intense afternoon read this is the novella for you.
Read Excerpt Below
She Has Done It Again!!
Just because this is a novella, do not think that it doesn't pack a lot of punch within a few pages!! There is plenty of suspense, plenty of steam, and satisfaction! 😉 This book has no lack of graphic details if that is your thing. I recommend it to anyone who likes a fast-paced, passionate, read-in-one-setting novella.
Maari
Amazon Kindle Reviewer
Another Great Read By Rebecca! Unravel Is Full Of Romance, Mystery And Suspense!
Once again, Rebecca has written a great book that is well written, has a plot that is well thought out, and grabs you. Unravel has so much mystery and suspense. All of these crazy things keep happening and I really had no idea who was responsible for them. The twists and turns had me on the edge of my seat, making it hard to put it down. Rebecca also mixes in plenty of hot and steamy scenes, love, emotion, angst, and drama. Unravel is fast-paced, exciting, and a quick read. You will definitely enjoy it! Read the complete review here...
Virginia
Amazon Kindle Reviewer
5 Stars!
Unravel is a fast-paced, intense, heart-pounding read that will keep you glued to the page just to find out what will happen next. The undeniable passion that flows between the couple will radiate off the pages taking your breath away. This is one incredible fight for love you won't want to miss. Read the complete review here...
Liz
Amazon Kindle Reviewer
Rebecca Has Done It Again!
This novella is fantastically written and I just could not put it down. I read it a few nights and good thing it is just a novella because I ended up so hooked on it that I just didn't want to stop reading because I wanted to see what else would happen in this awesome story. I love that this book is fast-paced with some twists and keeps you entertained. I am a huge fan of Rebecca's and so far have read and bought all of her books because I know I will be reading them all over again in the not-so-far future. I give this novella 5 out of 5.
Chantale
Goodreads Reviewer
Loved Every Single Word And I Can't Wait To See What She Has In Store Next!
This story was fast-paced, full of drama, and excitement that keep the reader entertained from the beginning till the end. Rebecca's books are so worth reading because there are never any disappointments. They will hold you captivate, have you on the edge of your seat, and when they end you are defiantly left wanting more. Read the complete review here...
United Indie Book Blog
Goodreads Reviewer