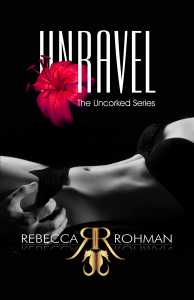 Chella and Mitch Mariani are a happily married couple, living the good life in San Diego. She's a marketing genius in the cosmetics division at an international conglomerate; he's one of the city's most successful real estate investors. Life has never been better.
Until a series of disturbing events cloud a blissful fifth wedding anniversary.
Lies surface. Suspicions escalate. Danger lurks. Their seemingly taut bond unravels their love to its core. As misguided choices threaten to destroy them forever, keeping their hearts on the path to a collective future might be the most monumental fight of all.
Unravel is a follow-up novella to Rebecca Rohman's first romantic suspense novel, Uncorked. If you enjoy romantic suspense, and you're looking for a fast-paced and intense afternoon read this is the novella for you.
Read Excerpt Below