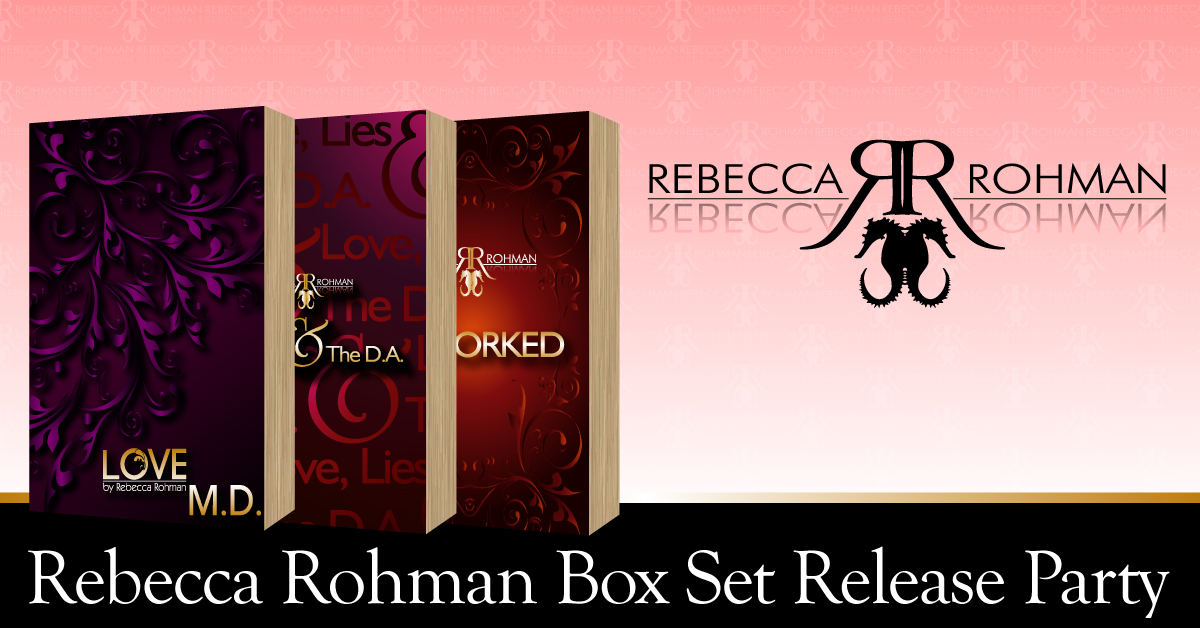 Hello Lovelies,
In celebration of my Rebecca Rohman Box Set release, I'll be having a party on Facebook tomorrow—Tuesday September 22, 2015. I will be giving away many prizes, sharing excerpts, taking your questions about the set, and some amazing authors and bloggers will be stopping by.
BUT until then, be sure the check the event page. Between now and 10AM Tuesday, I'll be giving away 11 prizes—and that's before the party has even started. Each of the 11 prizes will be in honor of the 11 authors and bloggers who will be stopping by to help me celebrate. Hope you all will join me then. Feel free to invite friends to join the fun. The lineup is below.
Place: Facebook – Click Right Here
Date: Tuesday September 22, 2015
Time: 10AM – 11PM EST
10:00AM – Rebecca Rohman
11:00AM – Pamela Washington – Author
12:00PM – Just One More Page Book Blog
1:00PM – The Art of Romance Promotions
2:00PM – Rave And Rant About Raunch Book Blog
3:00PM – Up All Night Book Addict
4:00PM – Author Olivia Howe
5:00PM – B's Book Blog
6:00PM – Author Komali da Silva
7:00PM – Cleo Scornavacca
8:00PM – Brittany's Book Blog
9:00PM – Mr. Up All Night
10:00PM – Rebecca Rohman
If you haven't gotten your box set of my book yet, I've included the blurb and links blow. Hope to see you on Tuesday!


★ Rebecca Rohman Box Set: Love M.D., Love, Lies & The D.A. And Uncorked
Lose yourself within the pages of Rebecca Rohman's
Box Set Collection featuring her three novels Love, Lies & The D.A., Love M.D. & Uncorked.
All three full length novels are standalones. However, because Love, Lies & The D.A. and Love M.D. share some of the same characters they can be read together. If you'd like the read them in order, Love, Lies & The D.A. was released first.
Expect loads of suspense and steamy love scenes. Individual synopses for each book follows.

★ Love M.D.
As an accomplished interior designer in San Francisco's Bay Area, Zoë Jenkins is used to transforming empty spaces into masterpieces. She leaves little square footage in her personal life for anything outside of her thriving business and a renewed relationship with her twin brother. After a decade spent ripped apart by circumstance and an entire ocean's distance, she depends on no one but him. Until a sexy surgeon walks into her life.
Although Zoë can't deny her attraction to the charming and benevolent Morgan Drake, he's on her mental list of everything she should avoid. Past experience taught Zoë that dating clients compromises business. Add a not-yet-dissolved marriage to the mix and Doctor Hottie is definitely Doctor Off-limits.
Dr. Morgan Drake is surprised at the undeniable chemistry he feels when he's in the same room as Zoë. The strikingly beautiful and solitary designer he hired to fill his new-start, new-city home makes it abundantly clear there will never be anything between them. But twelve years of medical school breeds persistence. He sets out to persuade the pants off Zoë Jenkins and show her what her empty spaces are missing.
Intense passion and amazing sex have a way of masking secrets-secrets that unravel a dangerous web of fraud, corruption and conspiracy that turn Zoë's quiet spaces into a world where nothing is as it seems. With her life on the line, the good doctor responsible for her fiercest betrayal might just be the only one worthy of her finest interior masterpiece-this time, of her heart.
★ Love, Lies & The D.A.

Jada McLean is about to get married in nine days, when she walks in on her fiancé in a little
more than a compromising position. Days later, she's on a trip that she intends to be relaxing and a prelude to her fresh start, when she runs into the rude, obnoxious, but gorgeous Jonathan Kole.
Jonathan Kole is San Francisco's newest District Attorney. When he finds himself deeply attracted to a stunning beauty, he has no idea that she's about to get into BIG trouble with the law—and he'll be the one presiding over her trial. To make matters worse, his father is the lawyer representing her in the high-profile case.
When a series of events force them together over New Year's weekend, Jonathan's feelings and ethics will come into question, while Jada comes to terms with the fact that she is falling for the man that will be responsible for attempting to put her behind bars… Little do they know, they're both about to fall into a whirlwind so deep, it will send both their lives spiraling out of control.

★ Uncorked
A Contemporary Romance with Elements of Suspense
Chella Noon's life isn't her own. Her success as a Marketing Executive in the cosmetic division of an international conglomerate is overshadowed by a series of tragic events from a decade ago. With no family, few trusted friends and years spent on the run, she opens herself up to the possibility of a future with a sexy new real estate investor despite escalating threats from a psychotic ex determined to torment her.
Mitch Mariani never met a deal he couldn't close. So when Chella walks into his life, he will stop at nothing to prove he is worthy of her trust. But as Chella's past catches up to them and danger exposes his well-guarded secrets, his heart may not be the only thing at risk of a tragic end.

BUY LINKS
Amazon US ❤ Amazon UK ❤ Amazon CA ❤Amazon AU
Amazon DE ❤ Amazon IN ❤ Amazon FR ❤ Amazon IT ❤ Amazon ES