Love M.D. by Rebecca Rohman Blog Tour & Giveaway

Hello Lovelies,
Today, my blog tour for my latest release Love M.D. begins and there is no better way to celebrate this event than with a giveaway. Up for grabs this time around is a paperback copy of Love M.D. and a sterling silver simulated emerald ring. If you'd like to sign up you can do so HERE.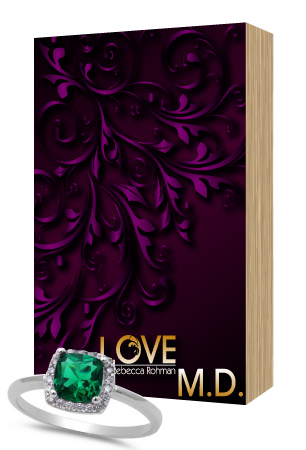 Over the course of my blog tour (March 30 – April 17) be sure to follow my FACEBOOK page where I'll be sharing fun things from Love M.D. daily:
Scenes from Love M.D.
Music from Love M.D.
Fashion from Love M.D.
I hope to create a fun picture for you of what I envisioned while I wrote the book. Also, look out for my post every morning Eastern time on the blogs that will be posting that day. It will give you a chance to catch up on what others have to say about Love M.D.
If you are a blogger and would like to sign up for the tour please feel free to do so HERE, I still have some slots open in April. Reviewing the book is not mandatory and I will provide you with HTML if you wish.
I think that's it for now, hope to hear your thoughts and read your comments on my daily Facebook posts. I love getting feedback from you.
Until next time…
Cheers!
~Rebecca Rohman