★ Love M.D. Meet Dr. Morgan Drake

Love M.D. Synopsis
As an accomplished interior designer in San Francisco's Bay Area, Zoë Jenkins is used to transforming empty spaces into masterpieces. She leaves little square footage in her personal life for anything outside of her thriving business and a renewed relationship with her twin brother. After a decade spent ripped apart by circumstance and an entire ocean's distance, she depends on no one but him. Until a sexy surgeon walks into her life.
Although Zoë can't deny her attraction to the charming and benevolent Morgan Drake, he's on her mental list of everything she should avoid. Past experience taught Zoë that dating clients compromises business. Add a not-yet-dissolved marriage to the mix and Doctor Hottie is definitely Doctor Off-limits.
Dr. Morgan Drake is surprised at the undeniable chemistry he feels when he's in the same room as Zoë. The strikingly beautiful and solitary designer he hired to fill his new-start, new-city home makes it abundantly clear there will never be anything between them. But twelve years of medical school breeds persistence. He sets out to persuade the pants off Zoë Jenkins and show her what her empty spaces are missing.
Intense passion and amazing sex have a way of masking secrets—secrets that unravel a dangerous web of fraud, corruption and conspiracy that turn Zoë's quiet spaces into a world where nothing is as it seems. With her life on the line, the good doctor responsible for her fiercest betrayal might just be the only one worthy of her finest interior masterpiece—this time, of her heart.
Meet Dr. Morgan Drake
Name: Morgan Drake
Age: 37
Birth Date: April 15
Height: 6'2
Weight: 165 Lbs.
Race: Hispanic & Caucasian
Eye Color: Hazel
Hair Color: Dark
Hometown: San Francisco, California
School: Stanford School of Medicine
Occupation: Surgeon
Home: Belvedere, California
Traits: Protective, Resolute, Loyal
Favorite Outfit: Grey, black, navy or white T-Shirt with faded blue jeans
Toys: Tesla,   Land Rover Range Rover Sport &  a Harley 
Sports: Swimming
Hobbies: Boating and he has an obsession with the pyramids of Egypt
Favorite Food: Mostly seafood and poultry, with the occasional steak.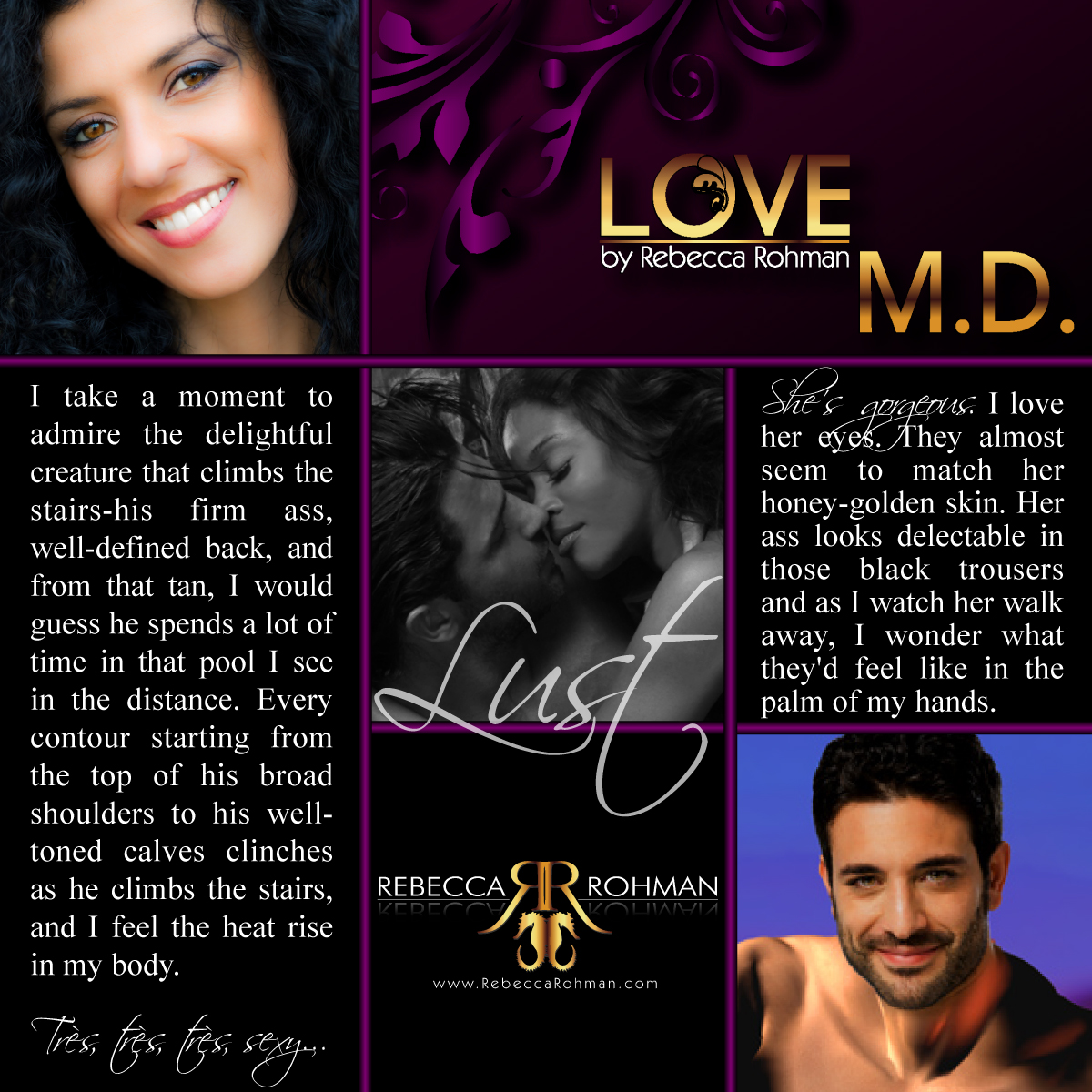 Excerpt – Discussing Dr. Morgan Drake
Zach pulls me close and kisses my forehead. "Zoë, if anyone knows how you feel it's me. Just try. Maybe go on a date with Doctor You Know Who. If I deserve this, you do, too. You're the better half of us."
I chuckle at his response, and after a tight squeeze, I pull away. "Somehow I don't think so. For all I know, he and his ex might be rekindling the flame right now."
"I don't think so. A guy doesn't go all out trying to impress a woman unless he's seriously interested, and I think he's made his feelings pretty clear. If I usually get what I want isn't clear, I don't know what is."
"Maybe what he really wants is a quick lay."
"A quick lay doesn't send you long stem roses and gifts. Is this about him or you?"
"I don't know what you're talking about."
"Is that right? I think you know how he feels. As usual, I think you're avoiding acknowledging this because you like him—a lot. You don't want to get hurt again, so you won't admit how you really feel."
Laughing carelessly, I reply, "I emphatically disagree with that statement."
"You can emphatically disagree all you want, but it's the truth."
At the same moment, Peaches runs into the kitchen with something in her mouth.
"What's that you've got there girl?" Zach asks, scratching her ears.
I turn my back to pull some quiche from the oven.
"Zoë Baylee Jenkins, what is this?"
I turn to see him holding a Ralph Lauren sock in his hand. I know that could only belong to Morgan. I guess I forgot to mention to him that he should be careful about leaving socks around when he was here. Peaches has a sock fetish.
"Are you blind? It's a sock."
"Yes, but whose is it?"
"I don't know. She must have found that somewhere outside."
Inspecting it, he responds. "You are such a liar. He was here wasn't he? You've been holding out on me."
I try with all my might to not break out into a smile and keep my secret safe. "Maybe."
"Hmmm… getting regular injections yet?"
I try, I really do but I can't keep a straight face, and I break out in laughter. "It wasn't like that."
"Exactly how was it?"
"He came home early and the guys had just refinished the floors so he couldn't stay at the house. We tried to find him a hotel, but they were all booked for the weekend because of some major conference, and his sister and dad were out of town for the weekend. I offered him a bed for the night."
"Your bed?"
"No. He slept in the guest room, thank you very much."
"You didn't sleep too well that night, did you?" With a naughty grin, he rubs his palms together. "Any kissy kissy?"
"There was not."
"Why don't you just admit it? You like him."
I smile but don't respond.
"You barely even give out your address, much less let anyone come to your home. Let's see in two years who's been here: Jada, Jonathan, Megan, Sheila, Lisa, Leo and Trevor… oh and Gail and, might I add, out of all those five are our staff members. Out of the two or three guys you had relations with after Todd, not one of them made it to your doorstep, and I'm supposed to believe that this is not a big deal."
"You're entitled to your thoughts and opinions."
"Say whatever you want, but I know you better than you know yourself. Better stock up on those batteries, because if nothing happened between you two, as you claimed last night, you're going to need them."
Buy Links
Amazon US | Amazon UK | Amazon CA | Amazon AU
Amazon IN | Amazon FR | Amazon IT | Amazon DE | Amazon ES
Amazon NL | Amazon JP | Amazon BR | Amazon MX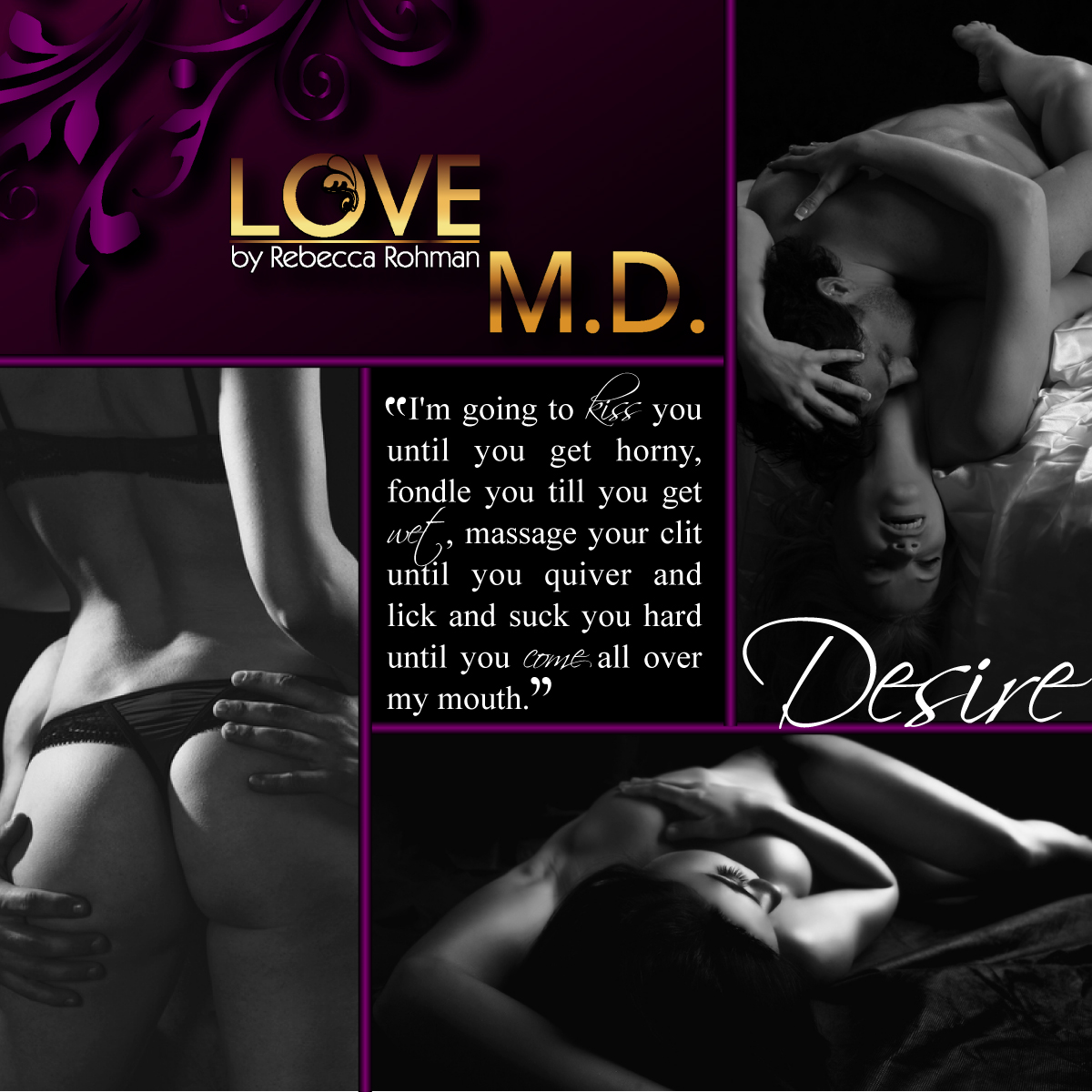 About Rebecca Rohman 
Rebecca Rohman is a wife and designer currently living in the northeastern United States. She was a sales manager for a tourist magazine, and for many years prior, she was involved in marketing for a jewelry company and fine wine distributor.
About fifteen years ago, she started writing her first romance novel purely to entertain herself. In early 2012, she decided to complete and release it. Since then, she has released three additional novels and one novella. She is currently working on her second novella, Love, Lies & A Bleu Christmas, due to be released in November 2016.
Titles by Rebecca Rohman
A Problematic Love | Love M.D. | Love, Lies & The D.A. | Unravel | Uncorked

Social Media Links