★ Translating The Tides Post & Giveaway

★ About Translating The Tides
Author: Rebecca Rohman
Release Date: February 27, 2018
Genre: Contemporary Romance/Romantic Suspense
Approximate Number of Pages/Words: 493/141,000
Format: Ebook & Paperback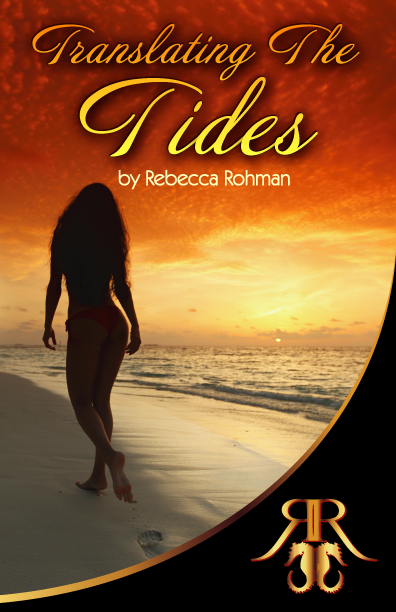 ★ Synopsis
When F.B.I. Agent Robert Hunter loses his best friend in a luxurious Washington DC hotel, he has only one thing on his mind—avenging his friend's death. He just didn't anticipate falling for the murderer's daughter along the way…
★ Excerpt 1 – Their First Encounter…
"Gia French, is it? Am I pronouncing that correctly?" the ticketing agent at Reagan Washington National asks.
"It's Gia like the letter G, then yuh—Gee-yuh."
"That's a pretty name. May I have your passport please?"
I thank her and politely hand it over.
It's been a remarkable journey touring the east coast of the United States but it must end. Unfortunately, I am two days ahead of schedule because my director at Versace in Milan unexpectedly wants to meet with me tomorrow because he'll be traveling in a few days.
I arrived at the ticket counter to see if I could find a way to change my plans and make it on the next flight out of here to get back to Milan in time for a meeting tomorrow evening. According to my research, a flight leaves here in a little over an hour. It looked packed but I intend to get on it.
The airport traffic is dying now that it's 8 p.m. Thankfully, I'm the only one in line. But I'm anxious and hoping the agent can quickly work this out in time for me to make it through security and catch the flight.
"Excuse me," a man walks up to the counter. "I need to get out of here—urgently."
"And you assume I don't," I respond slightly perturbed by his intrusion.
The attendant responds to him. "Look, sir, I'm the only one working here right now so you're going to have to wait until I finish things here with this customer."
"Thank you," I nod at her in approval and smile.
"Well, can you hurry it up already?"
How rude.
The woman ignores him and she tries to sort me out while he huffs and puffs behind me.
I turn to him and smile. "You know, rudeness will only get you so far," utter sarcasm filters through my words. "Sometimes a little politeness can take you a long way. Pardon me…I don't mean to intrude…or maybe you could have asked me nicely first. That's called manners, or didn't you learn those? Do they not exist on the planet you come from?"
His vivid blue eyes turn dark and cold. "Listen, lady, I'm not in the mood, okay."
"Well, neither am I, so back off and let me handle my business," I snap.
He doesn't respond and looks at something on his phone.
The clerk manages to get me on a flight from here to Munich and from Munich to Milan. I'll have to head straight from the airport to my meeting but barring no delays, I'll get there on time.
"Here you go Ms. French." She hands me my boarding passes and passport. "Your flight leaves out of gate twenty-two in fifty-five minutes."
"Thank you."
As I turn to leave, the man behind me stares at me crossly when my carry-on suitcase is stuck in the strap of his. When I yank it away, the case turns off its wheels and runs over his foot.
"Maybe you should watch where you're going," he says tersely.
"Maybe you should keep your belongings out of the way," I retort. "Considering it's beyond the check-in line, that's a hindrance and a liability."
"You know what? Why don't you just mind your own business and get lost."
"Gladly," I respond. "Cuzão!"
"What was that?" he shouts from behind me.
I swear he's trying to provoke me.
I stop and turn to him, "I said you're an asshole. What are you going to do, beat me up? You stupid dingbat."
I stomp away curtly with my blood-red stilettos pounding the terrazzo floors making it through security and to the gate just in time to get onto the aircraft.
★ Trailer
★ Excerpt 2 – Sexual Hedonism…
"Are you single? Are you seeing anyone?"
"No. I'm not in a relationship with anyone except my two dogs Bella and Cudjoe. In addition, if I were seeing anyone, I would not have spent that time with you. There are two girls I see, but it's purely sexual."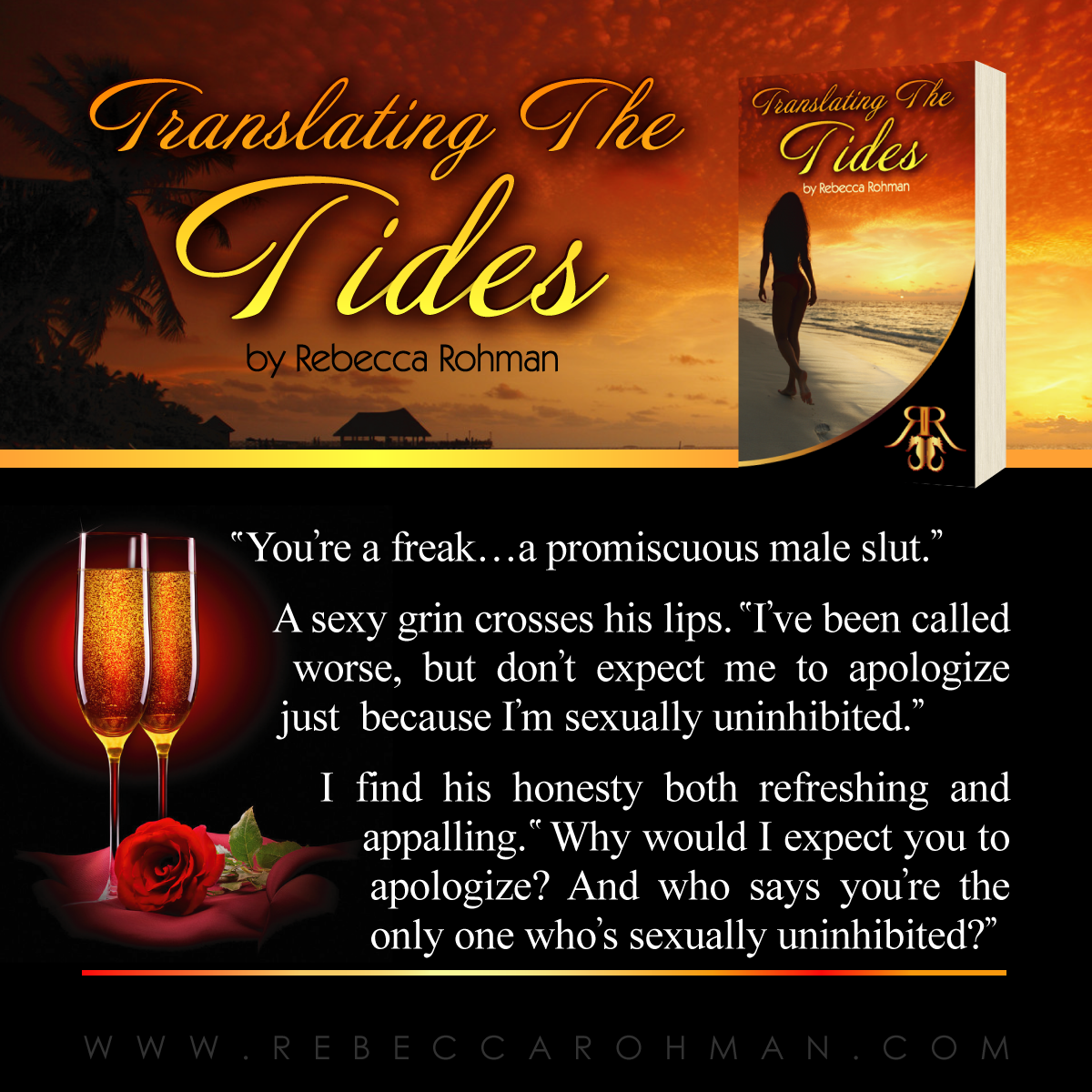 "I can't believe you just admitted that to me."
"It is what it is."
"Do they know about each other?"
"Yes—they're best friends."
"And you have sex…with both of them?"
"Yes."
"Together?"
"Yes."
"You're a freak…a promiscuous male slut."
A sexy grin crosses his lips. "I've been called worse, but don't expect me to apologize just because I'm sexually uninhibited."
I find his honesty both refreshing and appalling. "Why would I expect you to apologize?
And who says you're the only one who's sexually uninhibited?"
He nearly chokes on his wine.
I giggle. "Does that surprise you?"
"Let's just say I was not expecting that response." He laughs.
"Well, I'm not a slut and I don't engage in threesomes but I thoroughly enjoy great sex with the right man."
"As you should."
"So do you use protection when you engage in all this hedonism?"
"Always." He winks at me.
"So when do you intend to see them next?"
★ Buy Links
Amazon US | Amazon UK | Amazon CA | Amazon AU
Amazon IN | Amazon FR | Amazon IT | Amazon DE | Amazon ES
Amazon NL | Amazon JP | Amazon BR | Amazon MX
Apple iBooks | Barnes & Noble | Kobo
★ About Rebecca Rohman
Rebecca Rohman is a wife and designer currently living in the northeastern United States. She was a sales manager for a tourist magazine, and for many years prior, she was involved in marketing for a jewelry company and fine wine distributor.
About fifteen years ago, she started writing her first romance novel purely to entertain herself. In early 2012, she decided to complete and release it. Since then, she has released four additional novels including Translating The Tides and three novellas. Translating The Tides is her eighth release.
★ For Updates and Other Information
Visit Rebecca's Website at
★ Follow or Like Rebecca
Sign Up For Rebecca's Mailing List
Goodreads | BookBub | Facebook |Twitter

★ Other Titles By Rebecca Rohman
Although Rebecca Rohman's novels standalone, they can be read together because they share the same characters. The novellas are follow-up books to the full-length novels. They're listed below in the order they were released in case you'd like to read them together.
Translating The Tides (Standalone)
Love On The Pacific Shores Series
Love, Lies & The D.A.
Love M.D.
A Problematic Love
Love, Lies & A Bleu Christmas (Novella)
The Painful Side of Love (Novella)
The Uncorked Series
Uncorked
Unravel – An Uncorked Novella
Available At:
Amazon | Apple iBooks | Barnes & Noble | Kobo